1.25 oz. Personalized Honey Jars
Love is sweet! And that's exactly what's these 1.25 oz. Personalized Honey Jars are all about. Fill them with the chocolate dip, jam, or honey favors of your special occasions, like your Meant to Bee wedding, Bride to Bee bridal shower, Sweet as Can Be anniversary party, Honey Bee birthday party, Milk and Honey baby shower, and Busy Bee graduation party. Have them as the personalized sample jars for your business' tasty treats. Or, save them as the classy cups for your tasting party appetizers, daylight candle favors, and a lot more. Either way, these personalized honey jars are sure to amuse and leave a buzz as deliriously cute favor jars and party details.
1.25 oz. Custom Printed Honey Jar
as low as : $0.75
as low as : $0.75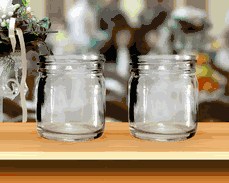 1.25 oz. Honey Jars Wholesale or Bulk
as low as : $0.75
1.25 oz. Anniversary Honey Jars
as low as : $0.75
1.25 oz. Baby Shower Honey Jars
as low as : $0.75
as low as : $0.75
1.25 oz. Bridal Shower Honey Jars
as low as : $0.75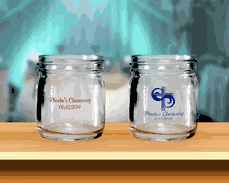 1.25 oz. Christening Honey Jars
as low as : $0.75
1.25 oz. Graduation Honey Jars
as low as : $0.75
1.25 oz. Monogrammed Honey Jars
as low as : $0.75
1.25 oz. Religious Design Honey Jars
as low as : $0.75
as low as : $0.75
as low as : $0.75
Perfect for Your 30 mL Sample Treats and Little Gifts
Don't be deceived by these personalized honey jars as though small, they are actually ready to hold a wide range of the sweetest treats and little gifts that you plan to share. These personalized honey jars stand merely 2 inches tall, have straight sides, a 1.63-inch outside diameter at the rim, a lug finish, which can be sealed with a 43 mm twist metal lid with Plastisol liner (sold separately), and are made of a clear and high-quality food-safe glass. Thus, they are small yet elegant and perfect for containing up to about 30 mL or 2.5 tablespoons of liquid, cream, or powdered treats, i.e. honey, jam, mayo, jelly, cocoa powder, and sunscreen party favors.
Also Great as Personalized Mini DIY Candle Jars!
What's more, these personalized honey jars are durable as personalized mini DIY candle jars for your 1-ounce DIY candle wedding favors, candle party favors, and sample scented candles. You can, as well, bank on their small size as mini jars for candle scents and for giving your pals a Mason jar candle gift set, which consists of the various colors or scents of the candle favors that you plan to make. Having these personalized honey jars for your restaurant or party, you can also enjoy them as Mason jar shot glasses for the dips, spreads, and sample-size foods or drinks, including frozen and chilled treats. You will want to reach out for them, too, as mini Mason jar decorations, as game prizes, as mini Mason jars for your homemade creams for gifts or for sale, and many more.
Realize that Perfect Scene with an Old-Country Flair
And not just useful for so many things, these personalized mini honey jars are also ready to make your wedding logo, party clip art, company logo, monogram, or artwork shine as a timeless, single-color print on their front. So realize that wedding or party-perfect scene with a chic old-country flair that you have in mind, make your tasting-size delicious treats standout on the party tables, and multiply your business' sales – maybe even become the envy among your industry – by presenting your sample merchandise and specialties in these personalized honey jars. Easily create your design by having a cool artwork from our templates printed in your choice of color and with up to three (3) lines of custom text. Or, email your finished artwork for printing on these custom honey jars.
Buy Now for Exclusive Discounts, FREE Sample, and More!
Shop these personalized mini honey jars, mason favor jars, and personalized mini DIY candle jars here on GlassCoasterStore.com and gain access to our exclusive wholesale or bulk discounts, as well as have your order delivered on your door without the hassles plus get a FREE sample with your order worth $150 and above! Love to use these personalized honey jars with other shapes, types, and sizes of personalized mason jars? There is certainly a lot more waiting for you here on GlassCoasterStore.com, so get those creative ideas coming because there is the perfect personalized mason jars here for your various needs. Happy shopping!