Personalized 4 oz Mini Mason Jars
These Personalized Mini Mason Jars just got sending your delectable concoctions and food gifts a whole lot sweeter! At 4 oz., these personalized mini mason jars are perfect as the economy-size jars, sample jars, and to-go bottles for your inimitable seasonings, sauces, savories, bread spreads, mini snacks, and other tasty treats. They can hold up to eight (8) tablespoons of your jam and jelly favors, too. Commercial-quality, thus durable and food-safe, plus ideal for foods and drinks because they can be spill-proof sealed with their lid (sold separately), these personalized mini mason jars also come in a travel-friendly size. Thus, more than simplify the way you pack and ensure the freshness of your tasty treats, they also make it easy for you to share the latter like irresistible gift sets.
Custom Printed 4 oz. Mini Mason Jars
as low as : $1.15
as low as : $1.15
as low as : $1.15
Anniversary 4 oz. Mini Mason Jars
as low as : $1.15
Baby Shower 4 oz. Mini Mason Jars
as low as : $1.15
Birthday 4 oz. Mini Mason Jars
as low as : $1.15
Bridal Shower 4 oz. Mini Mason Jar
as low as : $1.15
Christening 4 oz. Mini Mason Jars
as low as : $1.15
Graduation 4 oz. Mini Mason Jar
as low as : $1.15
Monogrammed 4 oz. Mini Mason Jar
as low as : $1.15
Religious Design 4 oz. Mini Mason Jar
as low as : $1.15
Seasonal 4 oz. Mini Mason Jars
as low as : $1.15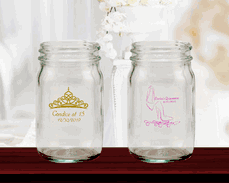 as low as : $1.15
From Tasting-Size Drinks to Sample Sweets and More!
Serve welcome drinks, mini snacks, sample sizes of sweet treats, and edible favors without the hassle in these personalized mini mason jars, as well as save a few extras of them for your wedding reception and party venue's mason jar decorations, as prizes for the party games, and many more. These personalized mini mason jars feature your artwork as a colored print on commercial-quality mason jelly jars, thus, they are made of high-quality food-safe glass. Each of them also measures 1.81" in diameter x 3.38" in height, thus they perfectly answer your needs for petite mason favor jars, economy food jars, and mini mason jar drinking glasses.
No worries about spoiling or spilling their contents because these personalized 4 oz mason jars can be tightly sealed with 48/400 CT lids (sold separately). Palm-sized, lucky recipients can slip them inside their bag. Or, you can go the extra mile, especially when they are filled with drinks or creamy and liquid foods, by putting them inside a small favor bag with handle. Taking cue of their design as mini mason jars with rounded shoulders and owing to the lasting print of your artwork on their front, you can confidently store them, too, inside the fridge, warming box, or cooler for the purpose of keeping their edible content both fresh and ready to munch or drink at their ideal serving temperature. And if one (1) small jar of tasty treat is not enough for your very special guests, you can bank on their mini size for giving them sample serving sizes of the various flavors and types of tasty treats that you plan to serve or share.
Economy-Size. Unique. Perfect for Your Business, Too!
Not just for wedding, gift-giving needs, and party favors, these personalized mini mason jars are perfect for your business, too! With your food and drink offerings peeking through the custom print of your company logo and their clear glass walls, they will make the store shelves and display refrigerators of your business place bloom in the luscious colors and appetizing presentation of your tasty treats. You can also bank on their popularity as economy-size jars for jams, jellies, spices, mustard, preserves, honey, and holiday food gifts. Offer them as tasting-size mason jar drinking glasses for the juice, beer, and cocktails in your restaurant. Add them to your business' personalized mason jars for sale and collectible promotional items. Even send them as gifts and freebies for your clients, employees, and business stakeholders, who will surely make use of them as mini glass jars, such for candies and mints.
Shop Wholesale or Bulk – From $1.15 with FREE Sample!
Amass these personalized mini mason jars bulk or wholesale from $1.15 per piece only here on GlassCoasterStore.com, enjoy the convenience of shopping them online or drop-shipping to your customers, even avail a FREE sample with your order worth $150 and above. Easily create your exclusive design by selecting a clip art from our templates to customize in a color of your choice and with up to three (3) lines of custom text. Or, send in your company logo or finished artwork for single-color printing on their front. A wide range of personalized mason jar shapes and sizes to match, as well as gifts to go with these mini mason jars custom printed with your design, are also available here on our store, so take your time and shop away. And if you have questions or inquiries, rest assured our quick answers can be found on our FAQ page. You can also send us an email at Info@GlassCoasterStore.com or call us at 1.610.438.0632 during business hours, that's 9:00 A.M. to 6:00 P.M. E.S.T., Mondays to Fridays, except holidays. Happy Shopping!