You Are Here:
Home > Blank Coasters
Blank Coasters
Use these Blank Coasters as they are. Or, craft them with the painted, engraved, or print of your design to make them extra-fabulous for gifts, as tabletop accessories, and coaster party favors. From the clear glass coasters, which we use for your personalized glass coasters, to the highly popular stone coasters, including the slate and sandstone coasters that you love, and the sublimation blank drink coasters, which our store and our experts trust, shop only these blank coasters for your crafts, table setting, and gifting needs!
Square Blank Glass Coasters (Set of 12)
as low as : $8.00
Imperfect Blank Square Glass Coasters for Crafts (Set of 24)
as low as : $9.00
Sublimation Blank Square Glass Coaster
Price : $3.00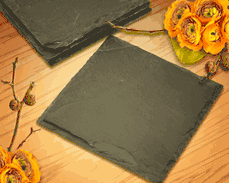 Blank Slate Coasters (Set of 4)
as low as : $5.75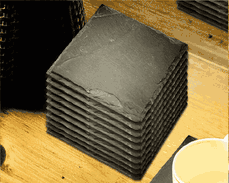 Square Slate Coasters Wholesale (Set of 24)
as low as : $33.95
Sublimation Blank White Marble Coasters
Price : $3.50
Laser Engravable Blank Sandstone Coaster Bulk Pack (Set of 10)
as low as : $21.00
Blank Square Cork Coasters (Set of 4)
as low as : $2.25
as low as : $0.20
Everything about your wedding or special occasion says about you, so to help you choose among their different materials, here's a quick run-down to give you a glimpse of idea about them:
Blank Glass Coasters
Our blank glass coasters are made of tempered glass, which is a kind of glass that is highly valued for its physical and thermal strength. This means that your glass coasters are able to withstand high heat, so, especially for a corporate affair, you can serve your guests hot beverages, like hot chocolate or coffee, and they can even use them even after the party for the longest possible time.
Add more drama to your blank glass coasters by availing of our engraving and imprinting services. Plan your design early-on by viewing them at our Personalized Coasters page. We also welcome you to create your own design, or modify our existing designs. The sky's the limit to how you want us to customize these coasters for you.
Blank Chipboard Coasters
For a while, you can leave the rules of the traditional wedding colors and designs because our chipboard coasters feature a slightly soft finish, neatly-trimmed edges and are very easy to alter in order to give way for your personal design. With a few crafting materials, like paints, patterned paper, glitters, silk flowers, ribbons, or other accents, you can personalize these blank chipboard coasters any way you like. As glass coasters, they are highly absorbent and reusable.
Blank Cork Coasters
As you combine the products of nature like flowers, wines and similar things on your wedding and other special occasion, your personalized cork coasters are also sure to dazzle as they give off a natural, earthy canvas for your design. Our blank cork coasters are made from high quality eco-friendly material from Japan, quickly absorbs drink spills, and does not deform easily. They have also been a popular choice of glass coaster material for restaurants, bars, and corporate gifts. Learn How to Make Cork Coasters
Blank Paper Coasters
Using personalized paper coasters will add a simple touch of surprise treat for your guests. Our blank paper coasters are made of high-quality, durable material, almost as thick as cardboard, and, as a material for a beverage mat, these can hold out repetitive uses and is very absorbent.
Blank Sandstone Coasters
Sandstone is created from cemented grains or tiny fragments of rock. Impress your guests by giving them your personalized sandstone coasters. These coasters are very absorbent and it's said that they can hold up to a quarter cup of drink spills and liquid that condenses and runs at the sides of a glass or bottle that is laid on them. The liquid that is absorbed by the sandstone coaster can evaporate naturally so you donít have to dump it out every now and then. But if you accidentally spill liquid on sandstone coasters, the liquid will only cause them to turn pinkish-brown, but then, with just a simple wipe of a damp cloth such stain will disappear in a while. After continued use, the pores in the sandstone may be clogged, but cleaning them will renew their absorbency. A fresh stain may come off right away by washing it in clear cool water, but a more stubborn one may need a light scrubbing with a sponge or soft brush.
Make your guests feel most special on your wedding day and special occasion by giving them your personalized glass coasters made out of GlassCoasterStore.com's blank coasters materials.