Engraved Glasses
These personalized engraved wine glasses, champagne flutes, mason jars, beer glass, and other bar or party glassware are the gifts that they will never forget! And, the best part? All of them are FREE to personalize with a laser engraving of your choice single-letter monogram – the classic monogram style for glassware. So take pleasure in giving your best pals that blissful experience of owning these personalized engraved wine glasses, bar and party glassware, and glassware gifts. Also stock these for your bar and for all your entertaining needs. Shop as few as one (1) piece or a set and save a lot when you buy a piece or set or more of them!
Engraved 9 oz. Stemless Wine Glasses (Set of 4)
as low as : $18.00
Engraved Stemless Champagne Flutes
as low as : $6.00
16.5 oz. Engraved Old Fashioned Mason Mugs
as low as : $5.00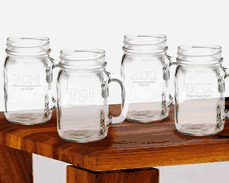 16 oz. Custom Engraved Greek Mason Mugs
as low as : $5.00
Monogram Engraved Votive Holders
as low as : $2.25
14 oz. Engraved Double Old Fashioned Glass
as low as : $7.00
25 oz. Custom Engraved Beer Mugs
as low as : $15.00
Custom Engraved Bamboo Sake Masu Cups
as low as : $10.50
as low as : $7.75
20 oz. Engraved Brittania Beer Mugs w Crest
as low as : $8.50
The Party Glassware for Your Most Special Occasions
Your formal events and the most special occasions, like your wedding, anniversary, baby shower, birthday, bridal shower, Christening party, graduation celebration, and Sweet 16 birthday party, will be enjoyed to the fullest and will get that party-perfect styling that they deserve when your tables are set or when your party drinks are fine-served in these personalized engraved glasses, which have the elegance of their high-quality clear glass material and intricate engraving of your monogram, logo, or custom artwork on their front.
With everything that you need to entertain guests in comfort and in style – from the stemmed and stemless engraved wine glasses for the wines and wine cocktails to the stemmed and stemless engraved champagne glasses for giving your gathering a sparkling prelude, the custom engraved water goblets for ensuring guests will have water available during the party, and the custom engraved beer glasses, engraved whiskey glasses, personalized engraved shot glasses, and engraved pint glasses for the party drinks that will keep the party going – you will find here on PersonalizedGlassMugs.com all the personalized engraved glasses that you need.
Supping and socializing comfortably for hours will, as well, be an easy feat when you have these engraved wine glasses, custom engraved beer glasses, and other personalized engraved glasses for your party glassware as each of them is fine-crafted with a nice weight, a smooth rim, and a timeless shape that is not only very comfortable to hold, but which also makes your drink enjoyable and presentable. Zooming-in on the clarity and smoothness of these custom engraved glasses' clear glass walls, it is certainly easy to see how they can make even the simplest table setting appear to be truly ready for dining and tastefully personalized.
And if your party will have a tempting line-up of the different brands or flavors of wine, beer, champagne, and other types of drink, the multipurpose shape of each of this personalized engraved glassware styles suggests that you can actually use each one of them to serve different types of beverages as you deem appropriate. You can, thus, use your engraved stemless wine glasses, for instance, for serving the broad variety of red wines, white wines, and wine cocktails in your party, as well as the fruit juice and mock cocktail drinks of your young guests and guests who prefer non-alcoholic drinks. You can also turn to your engraved shot glasses for your guests' shot drinks and individual serving-size desserts, appetizers, and dips.
Always a Pleasure to Pull-Out for Everyday Drinks
Planning to update the everyday drinking glasses in your home, office, restaurant, hotel, and food-service business? Then invest in these quality personalized engraved glasses, which make it infinitely easier for you to serve your family and guests' drinks in style.
These personalized engraved glasses are appropriate and convenient for everyday home or commercial use as they are elegant and suitable for a wide array of beverages. They are also dishwasher-safe and, most importantly, it is easy to keep them hygienic, clear, and brilliant for a long time and even after several uses and washes as while their glass material can be sterilized for extra cleaning measures and manufactured to be extra-resistant to scratches, as well as to cracks and breakage caused by mechanical shock and thermal shock, your custom design does not pose the risk of fading and chipping as it is carved through the surface of the glass.
What is even better, these personalized engraved glasses will go well with your existing melamine, glass, ceramics, porcelain, and crystal tableware, as well as with all the personalized glass mugs and table accessories that we have here on our store. With such elegant design, handy shape, and easy maintenance features all in a personalized drinking glass that will delight your family and guests, it surely is always a pleasure to pull-out these personalized engraved glasses for a drink and for entertaining.
The Perfect Present for Everyone in Your Gift List
The perfect present for the very special friends and loved ones are just a click away, and that's these personalized engraved glasses, which you can customize with the lucky recipient's monogram or your own design. No need to spend hours and days looking for that perfect holiday gift, birthday gift, wedding gift, or engraved gift that the special recipient will never find around and deem at a glance as truly special as these custom engraved wine glasses, custom engraved beer glasses, engraved champagne glasses, engraved shot glasses, personalized engraved whiskey glasses, and engraved pint glasses around as they will be personalized just for them.
Picking-up these custom engraved glasses for gifts and favors, you can even go the extra mile in making their recipient feel special, like by wrapping each personalized engraved wine glass or custom engraved stemless wine glass with a miniature bottle of white wine, red wine, or blush wine. To make it easy for you to hand the large engraved glassware types, like engraved pint glasses, you can go unconventional by putting it in a small bucket filled with the recipient's favorite beer, soda, or fruit drink.
And if you are challenged at how a personalized engraved shot glass will impress as a gift, remember that you can fill each one with trail mix for guests to enjoy on their way home after the party. You can also wrap it in a box together with a vodka miniature or you can opt a collection-style shot glass gift set by having different shapes and sizes of personalized engraved shot glasses in a gift.
No Minimum, Free Custom Engraving, and More!

Make these personalized engraved glasses the perfect canvas of your work of art and see your custom design beautifully rendered on their front. There is no minimum as to the number of custom engraved glasses that you can shop for each glassware shape and size, plus free engraving is available for all these personalized engrave glassware styles. All priced in wholesale or bulk, it is really a cool idea to buy your personalized engraved here on GlassCoasterStore.com.
Donít forget that you can also choose to have your personalized engraved glass gifts and personalized engraved glasses shipped directly to their recipients, to your destination wedding or party venue, or to your businessí branches across the country and to the international locations covered by our international shipping destinations. Rush processing is also available for your last-minute orders, as well as free sample for your order amounting $150 and above.
Have questions? Please take your time to browse our FAQ page for quick answers to your frequently asked questions, to email us at Info@GlassCoasterStore.com, or to call our customer service at 1.610.438.0632 during business hours, that's between 9:00 A.M. to 6:00 P.M. Mondays to Fridays (except Holidays). Happy Shopping!