Paper Parasols Umbrellas
You donít really need the sun to enjoy these Paper Parasol Umbrellas! That is because they look so beautiful on the dry outdoors and indoors as sun parasols, wedding umbrellas, Asian umbrellas, umbrella decorations, as paper umbrella light, and more. Handcrafted with great skill, these paper parasols open and unfold with ease. They also guarantee a dependable shelter from the heat of the sun – even on breezy outdoors, like the beach – because they are made of high-quality paper and strengthened by multiple bamboo ribs. Available in sizes that kids and adults will enjoy, these paper parasols also come in the most exciting array of colors for you to own.
Price : $6.50
Turquoise Medium Paper Parasol Umbrella
Price : $6.75
Rainproof Oiled Paper Parasol Umbrella
Price : $10.50
23.6 Inch Children's Paper Parasol Umbrella
as low as : $4.25
as low as : $8.15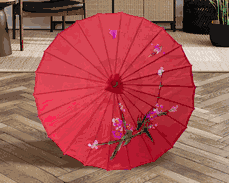 23.6 Inch Silk Parasol for Kids (3-5 Years Old)
as low as : $6.00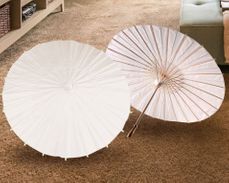 33 Inch Large Paper Parasol Umbrellas
as low as : $6.10
From Sun Parasols to Wedding and Party Favors
Owning these paper parasols or traditional Asian umbrellas used to require spending a lot of fortune and travelling miles away to their home in Asia. But you don't have to do that anymore because they are now just a click away here on GlassCoasterStore.com!
Take your pick from our medium paper parasols or 26-inch paper parasols, which are perfectly-sized for teens and petites. Or, invite your friends and loved ones to experience the uniqueness of the traditional Asian umbrellas with our large paper parasols or 32-inch paper umbrellas. These paper parasols are made of high-quality bamboo and rice paper, thus they are perfect for taking shelter from the heat of the sun, like on your wedding, special occasions, and relaxing strolls at the beach, resort, or garden. You will also love how they look both colorful and captivating as umbrella decorations – whether hung as they are, embellished with your design, or worked as umbrella lantern lights – to complete the Asian or tropical paradise feel of your home, wedding, restaurant, or party place.
With their solid hue, you will not also go wrong having these paper parasols for your wedding umbrella, as props to an Asian parasol dance or traditional Asian costume, as umbrella party favors, such as of your baby shower, bridal shower, or summer wedding, and as the base material for your various crafts on paper parasols. All-year-round, these paper parasols are also perfect as Asian gifts for your family, friends, and loved ones with a keen fascination of the Asian culture, who will love to add them to their Asian collection, and who will enjoy the many exciting possibilities that they can offer as fashion accessories and umbrella decorations. Sending a paper parasol gift on a celebrant's special occasion is simple, too, because we can ship it directly to their place here in the USA or abroad.
Buy Wholesale or Bulk, No Minimum!
So shop these paper parasols to your heart's delight and have them for everything – from Asian accessories to giving your place the perfect Asian or tropical ambiance for relaxation or special occasion and for sharing a one-of-a-kind Asian experience with friends and loved ones. Buy these paper parasols cheap wholesale or bulk and with no minimum only here on GlassCoasterStore.com – even match them with equally gift-perfect Asian accessories, like personalized hand fans, to complete the ensemble. Whether for you, for your pals, or for decor, there is the perfect paper parasol here to answer your needs and keep you coming back for more!