You Are Here:
Home > Coaster Party Favors
Coaster Party Favors
You see the likes of these Coaster Party Favors a lot because they are a classic favorite for gifts and party favors. But did you know that it is right here on GlassCoasterStore.com where you can shop them at no minimum, at the cheapest wholesale or bulk price online, and where you can find versions of them with a custom print of your names or sweet thank you note? So get your guest and gift lists ready because with a selection that is as cool and cheap as these, you are sure to find the perfect coaster party favors for your needs. And with no minimum, each recipient can surely own a coaster party favor that completely suits his or her taste!
Good Wishes Heart Glass Coasters (Set of 2)
as low as : $1.50
Photo Glass Coaster and Wine Bottle Stopper Favor Set
as low as : $4.91
Baby Boy Glass Photo Coasters (Set of 2)
as low as : $1.08
Baby Girl Glass Photo Coasters (Set of 2)
as low as : $0.90
LOVE Design Glass Coaster and Wine Bottle Stopper (4 Piece Set)
as low as : $4.85
LOVE Glass Coasters (Set of 2)
as low as : $1.15
LOVE Glass Coasters (Set of 4)
as low as : $1.86
Beach Themed Glass Coaster Favors (Set of 2)
as low as : $0.99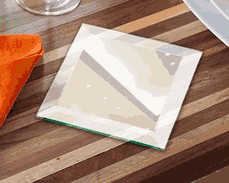 as low as : $4.00
Heart-Shaped Glass Coaster Favors (Set of 2)
as low as : $1.11

Welcome to our Coaster Party Favors Section!

Here, we carry many coaster party favor designs just for you. Hosting a bridal shower party for a friend or are you having a baby shower party? Well there is no need for you to worry about your party favors.

We got it all for you. All you have to do is to make up your mind on what theme you are going to have for you to come up with the right coaster party favors design.

We have different kinds of drink coasters from themed glass coasters to natural sandstone coaster sets. Glass photo coasters are among the most favorite party favors for any type of occasion. Choose the one that best describes you!

Coaster Wedding Favors have become very famous item. They can be practical and stylish at the same time. Coaster Favors are wonderful gifts for parties, favors for wedding receptions, decorations for a birthday party and even giveaways for marketing promotions. Drink coasters are best selling items in the market because they are elegant and useful way of thanking your guests or clients.
Drink Coasters make remarkable party and wedding favors. Here are some of our popular drink coaster favors that you can choose from:
Personalized Paper Coasters
Personalized paper coasters are made from durable pulp board materials. These coasters are budget friendly and can make you choose a design that can be printed on your top of your paper coasters to make it personalized by having your name and date of event on it.
Asian Coasters
Asian Coasters are made from clear or frosted glass material. You may choose from various interesting Asian designs such as Asian Love, Cherry Blossoms and many more. Perfect for any Asian themed occasion!
Glass Photo Coasters
Glass photo coasters are multifunctional drink coasters. It can serve as a coaster, photo frame and place cardholder. These drink coasters are the most commonly used coaster party favors due to its usefulness and durability. Made from tempered glass.
Love Glass Coasters
Loves glass coasters are made from durable glass material. Each coaster is designed with LOVE word in many different styles. There is no other way of expressing your gratitude to your families and friends but by spelling it out through drink coasters …..L–O–V–E! Share your happiness and feelings with these love drink coasters.
Sandstone Coasters
Sandstone coasters are made from 100% natural sandstone material that makes these coasters very absorbent. Printed with many attractive and beautiful designs that can bring your mind back to the beach, desert and garden atmosphere, these drink coasters will be perfect to any type of special event.
Great thing about our drink coasters is that it comes in prepackaged designs that can make you save time and money. It will be good to give your guests something that they will want to take home. Coaster party favors are affordable items that your guests will surely appreciate and use without the need to break your budget.
Let your party guests go home with a souvenir of your big day with practical coaster favors. Add a unique accent to your party by bringing the best and most selective drink coaster favors with a variety of styles to suit your theme.
Your favor reflects your taste and personality so it will be wise to choose your party favors carefully. Select the best coaster favors carefully as they leave a lasting impression on your guests.
Here at Glasscoasterstore.com, we only offer the best yet budget friendly drink coasters that you buy and be the first one to enjoy our coaster party favors!
Start ordering now!