You Are Here:
Home > Plain Glass Coasters
Plain Glass Coasters
See these plain glass coasters give your tables a sophisticated and luxurious edge as the drink coasters for your family and friends' coffee mugs, wine glasses, and cocktail glasses. Set your guests' cup of joe, bright soda, fresh fruit juice, and sparkling wine on them for a drink display that highlights the mouth-watering hue of the latter. Or, use them to instantly add character to your simple table setting. Highly versatile and elegant in their simplicity, these plain glass coasters, stone coasters, paper coasters, and wood coasters can do wonders to your drink display and table setting. They also complement your wide range of tabletop accessories.
Square Blank Glass Coasters (Set of 12)
as low as : $8.00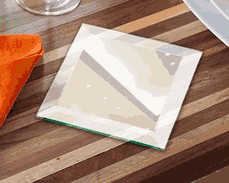 as low as : $4.00
Imperfect Blank Square Glass Coasters for Crafts (Set of 24)
as low as : $9.00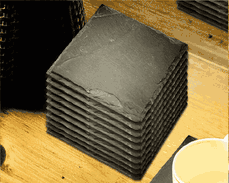 Square Slate Coasters Wholesale (Set of 24)
as low as : $33.95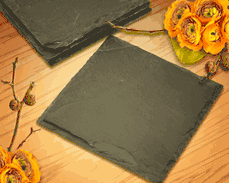 Blank Slate Coasters (Set of 4)
as low as : $5.75
Blank Square Cork Coasters (Set of 4)
as low as : $2.25

Art, in addition to purpose, is something that is at the heart of every glass coaster, and wedding parties and every special occasion are meant to be an extraordinary day, and at the same time a collaboration of your creativity and personal choice. So why not offer your guests these plain glass coasters for you to personalize as wedding favors or party favor?

Our plain glass coasters allow you to add your personal sense of style and creative design in them. As such, you can either personalized them with your design of choice, or decorate them as you would with crafting materials, such as paint, glass beads, silk flowers, and colored ribbons. Either way, your glass coasters will surely create an impression on your wedding day and special occasion.

Want your personalized glass coaster to look like our professional artist-designed glass coasters?

With our engraving and imprinting services, we can have your initials engraved, or your name, the event date, personal message for your guests, and favorite designs imprinted on these plain clear glass coasters. The end result: Nothing else stands out on your glass coaster but the beautiful design that remembers your wedding day.

We also welcome you to create your own design, submit to us your company's logo in case you intend to order your personalized coasters as favors for your stakeholders, or modify our existing designs which are found in the Personalized Coasters section. You can also choose from among different colors for personalization, and different font types for your message. We employ high quality engraving and printing methods to ensure that your glass coaster design stays for a very long time, even for frequent repetitive uses. To complete the package, each of your personalized glass coasters comes in a clear gift box tied with a charming white organza ribbon and a Thank You tag.

How about a simple do-it-yourself idea to personalize your plain glass coasters?

We also offer you these plain glass coasters on wholesale for craft use, and with a few materials, like glass beads, silk flowers, ribbons, and paint, you can decorate your plain glass coasters with them in such a way that they will match with the table setting on your party, or the theme of your occasion. What's more, kids can also join you in painting these plain glass coasters, and surely, that is going to be something that they will be very proud of, especially if you use them or display them in your home. As a bonus, you'd also be able to share the fun with everyone who puts his hands on these personalized glass coaster project.

Lastly, remember how minimalist designing says less seems more. This idea gives us a clue that you can also use your plain clear glass coasters as they are, to create a look that's between laid-back and modern.

Be the first to show off the latest art for the season, or create a more personal impact on your wedding favors with the use of these plain clear glass coasters.