Slate Coasters
These Personalized Slate Coasters and Slate Coasters Wholesale are 100% natural and chic as functional accents for your modern bar and table tops. No need to wait for the biggest event, make your family, friends, and guests feel the contemporary vibe and the unique experience of being one with nature having these personalized slate coasters as the perfect drink mats for their wine glass, whiskey glass, coffee cup, and more on even the swiftest encounter and remember to make every special occasion a great day to remember with the fine gift of these personalized slate coasters custom printed or engraved with your logo, photo, or cool artwork.
Engraved Promotional Slate Coasters (Set of 4)
as low as : $13.75
Photo Stone Coasters (Full Color)
as low as : $3.95
Imprinted Square Slate Coasters
as low as : $1.95
Custom Engraved Square Slate Coasters (Set of 4)
Price : $17.50
Sale Price : $12.00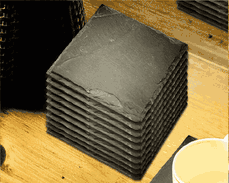 Square Slate Coasters Wholesale (Set of 24)
as low as : $33.95
Round Slate Coasters Wholesale (Set of 24)
as low as : $33.95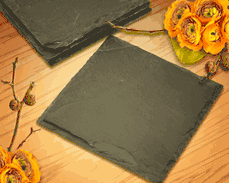 Blank Slate Coasters (Set of 4)
as low as : $5.75
One-of-a-Kind, Earthen, Contemporary, and Stately
Having a set or more of these personalized slate coasters or blank slate coasters is one of life's best luxuries. That is because every piece of this personalized slate coaster and blank slate coaster is one of a kind – being round or square drink coasters that are cut from natural slate stone, which is mined here in the United States, thus the inimitable form and texture of their grains, plus each of them answers your needs for natural drink coasters that are heat-resistant, highly absorbent, easy to clean, comfortable to handle for indoor and outdoor entertaining, and most of all, gifted with earthen, contemporary, and stately looks, which hardly go unnoticed.
Polished Smart for Your Tables and Entertaining Needs
Being made of natural stone that is cut into round or square drink coaster sizes, these personalized slate coasters and blank slate coasters, thus, exhibit jagged edges and a grainy texture, which unique feature allows them to bring more life to a nature-themed work of art that is custom printed or engraved on their front. Each of this personalized slate coaster and blank slate coaster is also readied for use as drink mats, thus they are polished smart for your dining tables, office meeting room, restaurant, hotel, party, and entertaining needs. Sized for use with a wide range of drink ware, they are a dependable stash as drink mats for stemmed and stemless glassware, coffee mugs, beer mugs, drink cans, drink bottles, Mason jar drinking glasses, carafes, and many others.
When not used as drink mats, you can rely on these personalized slate coasters and blank slate coasters, too, as slate candle trays, such as for your tea light and votive candle holders. Select slate coaster styles are also to watch out for as they are thick enough to work great as paper weights for your work desk or study table. There is also the easy personalized touch that your custom printed or engraved slate coasters can give to your coffee tables and restaurant tables even if you just rest them on a drink coaster rack. For your wedding and special occasions, you can set your personalized slate coasters to table-top easels as table decorations or you can finish each piece or set of them with a ribbon and favor tag so they can be worked as place card holders and welcome gifts.
And if you think they need a little sprucing-up after a long period of frequent use or to match your decorating theme, you can update their custom printed or engraved design with your own artwork, craft them as slate candle tray for a Zen-like candle centerpiece, or maybe re-purpose them for a slate craft. Your creativity is essentially the limit as to the many exciting uses and decorating ideas that you can come up with these gorgeous personalized slate coasters and blank slate coasters. But for a long time, you will surely want to grab these ultra-smart personalized slate coasters and blank slate coasters first each time you reach out for a drink or serve your guests' drinks as protective implements for your table-tops and counter-tops and and to smarten-up the latter's presentation.
Print or Engrave Your Logo, Cool Artwork, and More!
These custom printed slate coasters, blank slate coasters, and custom engraved slate coasters are a great idea for your business, too! Lucky customers, stakeholders, and followers of your brand can enjoy these nature-inspired and environment-friendly slate coasters as promotional slate coasters, classy drink mats, purchase freebies, corporate giveaways, employee appreciation gifts, personalized business gifts, as covet-worthy sets of slate coasters to add to your business' growing inventory, and many more! You can have your company logo, brand name, product logo, promotional design, holiday business greetings, professional monogram, or cool artwork engraved or printed on their front in a single color or in the exact colors that you like with our full-color printing option.
So amass your personalized slate coasters, engraved slate coasters, and blank slate coasters only here on GlassCoasterStore.com and get your hands on a FREE sample with your order worth $150 and above. Creating your design for these personalized slate coasters and custom engraved slate coasters is a very easy feat: Start off by selecting the slate coaster shape and customization style that you want, pick a design and custom text that you like to feature on their front, or complete your order by sending-in your finished artwork to Info@GlassCoasStore.com for single-color printing or full-color printing on your chosen slate coaster shape.