Personalized Favor Bags
These Personalized Favor Bags are high-quality and one-of-a-kind! You will enjoy putting gifts on them, too, drawing their string to a close, further sprucing them up for your party like by pinning silk flowers on their front, setting them on the tables, slipping them onto gift baskets, giving them to your pals, or using them as packaging for your business' products for sale. Durable and 100% recyclable, lucky recipients will actually have a very long time reusing these personalized favor bags for storing valuables, like jewelry, and as organizer bags for their drawer and everyday or travel essentials. Every touch will also reveal your appreciation to them because of the custom print of your artwork on the front. So behold these personalized favor bags for those truly exciting packaging and gifting needs!
Custom Printed Burlap Favor Bags
as low as : $1.80
Custom Printed Muslin Favor Bags (Full Color)
as low as : $1.10
as low as : $0.97
Personalized Burlap Favor Bags
as low as : $1.80
Personalized Muslin Favor Bags
as low as : $1.10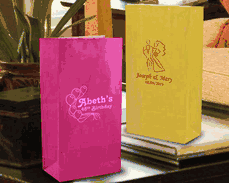 Personalized Wedding Goodie Bags
as low as : $0.60
Personalized Colored Kraft Paper Bag (Full Color)
Price : $1.41
Blank Kraft Paper Resealable Bags with Matte Window
Price : $0.50
The Perfect Personalized Favor Bags for Your Wedding and Party Treats
Take your guests to a higher level of enjoyment when it comes to wrapping your gifts and favors with these personalized favor bags and personalized gift bags. Perfected by the special print of your logo or custom design, who can be blamed for these little bags and party loot bags' amusing and party-perfect designs, which are custom-made for your wedding, party theme, or special occasion?
These impressive take to the rather plain and generic-style favor bags and gift bags are made from high-quality gift-wrapping paper, burlap, silk, and muslin cloth, among other types of materials. Thus, on top of their easy slip-and-go design, they make for the quick, safe, and smart presentation of your wedding gifts and party favors. They are even so handy to snap up for your destination wedding and for packing giveaways to a large crowd. You can also use them for simple to sophisticated gifts – from Jordan almonds to candle favors and little accessories, like jewelry, that your entourage can use during the event, and, their lucky recipient can reuse them, too, in so many ways, i.e., as mini pouch, trinket bag, signature pouch of your personalized favors, and many others.
Always a great pick for your tiny gifts, off-the-shelf party favors, and packs of sweet treats, these personalized favor bags and gift bags can even be translated into objet d' arts of your decorating theme. The mini-sized custom favor bags, for instance, with drawstring or satin ribbon can look stunning when hung from your wedding wishing tree or holiday tree, you can also have faux flowers arranged in a protruding manner on their aperture so they can be taken together in a shallow vase as floral centerpiece, or pin a brooch with your guest's name on their front to make them even more attractive on each guest's place setting, as place card holders, and party favors.
Even when prompted to set your event within a very tight budget, you are sure to come up with many exciting ideas for your wedding, gifts, favors, and party details with these personalized favor bags and personalized gift bags. They are gathered here on our online store in styles, colors, and sizes that perfectly suit your needs, plus we have the largest selection of exclusive designs that you can choose from and complete with your names, special wish, eventís date, or Thank You note. You can, of course, have your own logo or artwork printed on their front and get big-value discounts with your bulk or wholesale orders.
Trust us that at the heart of each of this personalized favor bag or personalized gift bag is not only your pretty and cost-savvy choice for the gift that will carry your guests away to the rich memories of your special affair, their meticulous quality and custom printed design also speak of your event as a celebration that no one will ever want to forget.