Summer Favors
Itís time to keep them cool with these Summer Personalized Favors, gifts, and restaurant or party glassware! So, let the summer drinks flow. Let them dine or party under the sun or the starlight whether on the beach, poolside, or garden. And, let them name this summer as their Best Summer Ever. Think you are missing that perfect summer personalized favor? Tap and check it out in our Seasonal Favors section! We have made shopping easy for you, so it is now easier for you to shop and save for your spring, fall, and winter favors, too!
Imprinted Square Slate Coasters
as low as : $1.95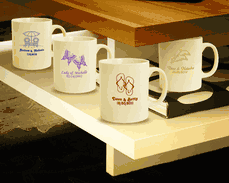 11 oz. Summer Personalized Coffee Mugs
as low as : $1.72
16 oz. Summer Personalized Mason Mugs
as low as : $3.15
20 oz. Summer Personalized Pub Pilsner Glasses
as low as : $1.85
9 oz. Summer Personalized Stemless Champagne Flutes
as low as : $2.30
Summer Personalized Frosted Candle Favors
as low as : $1.60
Summer Personalized Clear Candle Favors
as low as : $0.96
Summer Personalized 5.5 oz. Stemless Wine Tasting Glasses
as low as : $1.90
Summer Imprinted Glass Favor Jars with Snap Lid
as low as : $1.85
When you talk about summer, you will definitely think about beaches, butterflies, flowers, seashells and anything that you will enjoy under the sun. Putting all your favorite summer things in a favor will certainly complete your summer themed event. We have a wide range of unique summer party favors that include beach, nautical, seaside and tropical designed items that will perfectly fit for all your occasions. Fill your party tables with summer as you welcome the warm season to your indoor or outdoor reception with our stylish and interesting personalized favors.
View all our Summer Favors here in this section.