Las Vegas & Casino Party Favors
Give away these Las Vegas Personalized Wedding Favors and Casino Party favors as the sweet end to your Las Vegas wedding and celebrations with a casino theme party – even double the fun by incorporating them to your casino party supplies and by having them as the fun prizes for your party games or party glassware for your drinks and cocktail bar. These Las Vegas personalized wedding favors and casino party favors are not to be missed on your celebrations that are meant to be filled with lots of fun and play. And, not only will they be a feast for the eyes on your celebration, just the sight of them will also sway your pals to party like you do in Vegas!
Perfectly Suited Ace King 14 Gram Personalized Poker Chips
as low as : $0.40
European Rectangular Personalized Poker Chip Plaques
as low as : $1.25
as low as : $0.70
9 oz. Las Vegas Personalized Stemless Champagne Flutes
as low as : $2.30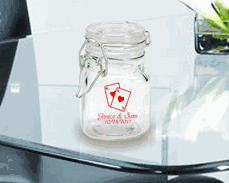 Las Vegas Imprinted Glass Favor Jars with Snap Lid
as low as : $1.85
11 oz. Las Vegas Personalized Coffee Mugs
as low as : $1.72
16 oz. Las Vegas Personalized Mason Mugs
as low as : $3.15
Las Vegas 20 oz. Personalized Pub Pilsner Glasses
as low as : $1.85
Las Vegas Personalized 5.5 oz. Stemless Wine Tasting Glasses
as low as : $1.90
Las Vegas Design Personalized 9 oz. Stemless Wine Glasses
as low as : $2.00
15 oz. Las Vegas Personalized Stemless Wine Glasses Favors
as low as : $2.30
Las Vegas Personalized Clear Candle Favors
as low as : $0.96
Las Vegas Personalized Frosted Candle Favors
as low as : $1.60
Party, Drink, and Dine in Exquisite Vegas Style
Give your guests the best reasons to get lost in the upbeat and romantic escape of your Las Vegas wedding, to put on their dancing shoes, and to party and play like a VIP by setting up the bar and putting these Las Vegas wedding favors, casino party favors, and Las Vegas personalized glassware into your party details. Take a pick from our premium set of wine glasses, champagne flutes, shot glasses, votive candle holders, beer and coffee mugs, cocktail glass, drink coasters, party salt and pepper shakers, and other types of party glassware and have them customized with a single-color print of your choice of a Las Vegas logo, casino icon, or custom text.
The Dazzling Stamp for Your Las Vegas Party
For your wedding, these Las Vegas wedding favors and personalized party glassware are a great way to put a dazzling stamp to your elegant wedding reception or to wrap as souvenirs. Whether you are having a themed Las Vegas wedding, holiday wedding, or a romantic outdoor wedding in one of Las Vegas' desert, lakeside, or mountain scenery or atop the city's breath-taking skylines, your guests will be delighted to take home these Las Vegas wedding favors and to have their drinks fine-served on these personalized party glassware as each glass and personalized wedding favor boasts a durable quality and is an elegant and useful personalized Las Vegas wedding favor that your guests would surely love to use over and over again after the party.
Jet-setting to Vegas for your bachelor party, bachelorette party, birthday, and other special occasions, you can make your destination party extra-special by giving family and friends a fabulous surprise and that's these Las Vegas-themed personalized shot glasses, wine glasses, champagne flutes, sporty mason mugs, milk and coffee mugs, and the party glassware and tableware of your choice or a mixed-and-matched variety of them, which are customized with your own design, special date, and Thank You note.
Build Your Vegas-Themed Party Bar in a Few Clicks
Alternatively, you can make your celebration enjoyable without having to leave home by setting up a day pool party, a Las Vegas ultra-lounge-inspired party place, or casino party replete with an open bar that serves your choicest wines, champagnes, vodka, and other types of party drinks on these personalized Las Vegas party glassware. With our wide selection of versatile party glassware, i.e., wine glasses, champagne flutes, shot glasses, cocktail mixing glasses, beer mugs, mason mugs, and other types of party glasses, you can almost give the bar of your Las Vegas-themed wedding and casino party a true Vegas bar-like feel and personalized styling.
Win Great Discounts, Buy Wholesale or Bulk
Get your Las Vegas-themed wedding favor and personalized party glassware here on GlassCoasterStore.com and reward yourself with great savings and discounts, hassle-free order delivery, rush processing option for your last-minute and spur-of-the-moment needs of these personalized Las Vegas wedding favors andparty glassware, even free shipping on select gifts and favor styles.
Whether you are planning to get these Las Vegas personalized wedding favors, personalized casino favors, and party glassware for a small or big wedding or party and whether you are taking your guests to a posh after-wedding reception, an intimate Vegas dining experience, a deluxe post-wedding tour around Vegas, or a Vegas-themed or casino-themed party, with our low minimum order quantity and wide selection of party glassware and personalized favors styles and sizes, you will surely find the right Las Vegas personalized glassware and Las Vegas wedding favors here for you.
Don't limit yourself, though, to having these personalized wedding favors and party glassware only for your Las Vegas or Casino Night engagement party, wedding, birthday, bachelor party, and bachelorette party, but enjoy using them, too, to spruce up the other wedding and party themes that you have in mind, like an Alice in Wonderland tea party, Night in Vegas promenade, and circus birthday party theme, as well as the decorating theme of your home bar, man's cave, and restaurant, or to pick them as personalized holiday gifts and special occasion gifts for your friends and loved ones. Happy Shopping!