French Favors
These French Personalized Favors, glassware gifts, and restaurant supplies will never go out of style! And, they spell gorgeous, useful, and original with their high-quality, stylish versatility, and the lasting print of your French-themed artwork or design. So, if you can't be in France for the holidays, especially to buy the quintessentially French gifts, French-inspired favors, and France business gifts or promotional items that your family, guests, and gift recipients enjoy, then have a little of France sent to you, instead, through these French personalized glass coasters, candle holders, champagne flutes, wine glasses, coffee mugs, and so much more!
Photo Stone Coasters (Full Color)
as low as : $3.95
Imprinted Square Slate Coasters
as low as : $1.95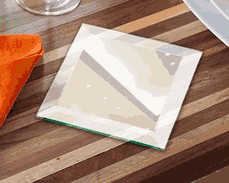 as low as : $4.00
French Personalized 5.5 oz. Stemless Wine Tasting Glasses
as low as : $1.90
French Personalized 9 oz, Stemless Wine Glasses
as low as : $2.00
15 oz. French Personalized Stemless Wine Glasses Favors
as low as : $2.30
9 oz. French Personalized Stemless Champagne Flutes
as low as : $2.30
11 oz. French Personalized Coffee Mugs
as low as : $1.72
French Personalized Clear Candle Favors
as low as : $0.96
as low as : $0.97
French Personalized Frosted Candle Favors
as low as : $1.60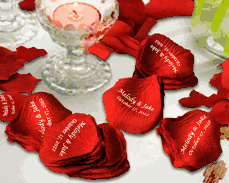 Personalized Silk Flower Petals (Set of 100)
Price : $36.80
Sale Price : $30.00
16 oz. French Personalized Mason Mugs
as low as : $2.75
French 20 oz. Personalized Pub Pilsner Glasses
as low as : $1.85
French Imprinted Glass Favor Jars with Snap Lid
as low as : $1.85
Personalized LOVE Antique Gold Bottle Opener
as low as : $2.75
Organza Bow Tie Ribbons (Set of 10)
Price : $2.00
End Your French-Chic Party on a Sweet Note
Festive, sumptuous, and luxurious – you can almost imagine how your special occasion will be filled with carefree fun, how it treats your guests to their favorite French party foods that are paired with only the best French wines and champagnes, and how your party venue looks so grand with its Eiffel Tower decor, party lights that gleam from French crystal chandeliers, and tabletops with crystal centerpieces, tiered silver trays with French pattisserie and macaroons, fresh fruits and flowers, and fine China dinnerware. There is no doubt, hosting a party like a French or a French-themed party is consistently in-vogue and your top choice for a party theme.
And, to end your French-chic party on a sweet note, let your guests come home with these French personalized favors and Paris party favors. Whether you are hosting a Paris birthday party theme for kids, a wine and cheese night for adults, a tea party bridal shower ala Marie Antoinette's 18th century high tea party, a French country wedding, or French holiday feast, these personalized French wedding favors, Parisian party favors, and Paris party supplies are all perfect for your special day. They are high-quality, useful, and specially designed for you – even your French guests with the most discerning taste will surely give these a thumbs-up as souvenirs.

Beautiful and Purposeful for Gifts and Party Favors
French personalized glass coasters top the list of what you should have for your French personalized favors, Paris party favors, and French business gifts. Especially if they are made of materials that exhibit the glamour and elegant rusticity of France, like glass and stone, your French aesthetic for beautiful, great-quality, innovative, and efficient gifts that do not look expensive would certainly approve how these French personalized drink coasters come so smart, easy to use, signature-style, and purposeful for they can go as drink mats, mini candle trays for the tea light and votive candles, and paper weights for their recipients' desk and dining tables.
For personalized French gifts and Parisian party favors that will forever hold a place in the heart of the food-lovers and the wine-lovers, your French personalized stemless wine glasses, champagne flutes, and cocktail glasses will certainly help your guests remember the French wines, champagnes, and cocktail drinks fine-served at your party. The perfect favors for a beautiful brunch or breakfast? Give them your pick of a coffee, milk, or tea accessory, like French personalized coffee mugs, espresso cups, tea bowls, and mini teapot favors, which will put a nice twist to the way they enjoy their coffee, milk, tea, juice, and other brunch and breakfast drinks.

Your French personalized mason jars are also here and they will provide more room and a reusable packaging for your bountiful edible party favors, like French hot chocolate mix, fruit parfait, and chocolate ice cream. You will not also want to forget how French candles are so loved by many people around the world, including your guests, especially as relaxing gifts and home fragrances. But, for that extra-sweet surprise, take these French personalized candle holders for your candle gifts and party favors. Suited for many sizes of tea lights and votive candles, lucky guests can easily reuse them for their favorite scented tea light and votive candles.

And, now for your Paris party favors for kids and for your young guests, trust that you will never go wrong giving them their French cafe-inspired personalized mini mugs or French milk bottle jars, which they will certainly enjoy for milk, water, juice, strawberry iced tea, and other refreshing drinks. Personalized hand fans are lovely, too, especially on your al fresco dinner party in the summer. Giving your authentic French gifts and party favors, like French macaroons, French candy favors, and contemporary French wine in tubes, a signature gift-wrapping style? They will surely find their perfect place in your personalized favor bags, goodie bags, and gift bags.

But, of course, your French-themed personalized favors are not only meant to shine at the end of the party because they can go as table decorations, too! Slip your coaster party favors in their gift box, for example, dress the latter with silken ribbons and place cards, ideally with stripes, floral, or gingham prints for that French panache, and then set your gifts on each guest's place at the tables for those party-perfect place card holders, welcome gifts, and takeaway party decorations that need no extra effort to spruce-up the look of your tables, especially for a casual and short-notice dinner party with a French menu.

Personalize your Gift and Souvenirs
So, don't just go for any other gift – personalize your gift and souvenirs with your French-themed design! Tap the premium gift or party favor of your choice and make it perfect with the lasting print of your names, message, or French design, like the Eiffel Tower, Damask, and Fleur de Lis. Try the classic favorite French color themes of peacock blue, lime green, hot pink, red, black, or yellow for your design. Or, go all-out artistic, colorful, and festive with our full-color printed souvenirs and party favors.
GlassCoasterStore.com is the place to buy these French personalized favors and Parisian party favors at the lowest minimum and at the cheapest wholesale and bulk prices. Found this amazing shopping offer only today and you will need your gift or party favor in only a few days? Our ready-to-ship non-personalized French favors and premium rush processing for your custom printed order will come in so handy for your last-minute shopping needs! So, shop with confidence here on GlassCoasterStore.com. Also, browse our site for many other gifts and party favors that will surely complement the French or Parisian details of your decorating theme.