Custom Cork Coasters
These Personalized Cork Coasters – with the English pub and vineyard-inspired ambiance and modern aesthetic that they can bring as drink mats – are not to be missed as promotional coasters, drink coasters, and little freebies for your bar, lounge, or pub that is perfect for post-dinner nightcaps, leisurely dining, and casual meet-ups with family, work mates, and friends, as coaster party favors for your wine tasting party, wedding, and celebrations, which treat guests to bottomless beer or wine, and as personalized gifts for the holidays and other special occasions. Highly absorbent and 100% natural, these custom cork coasters, most of all, boast a superior quality, thus they are impressively as thick as our personalized glass coasters and excellent for fuss-free cleaning after every drink.
as low as : $0.40
Wedding Personalized Cork Coasters
as low as : $0.40
Blank Square Cork Coasters (Set of 4)
as low as : $2.25
Anniversary Personalized Cork Coasters
as low as : $0.40
Baby Shower Personalized Cork Coasters
as low as : $0.40
Birthday Personalized Cork Coasters
as low as : $0.40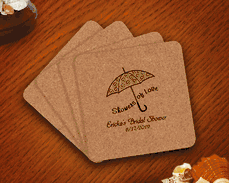 Bridal Shower Personalized Cork Coasters
as low as : $0.40
Christening Personalized Cork Coasters
as low as : $0.40
Graduation Personalized Cork Coasters
as low as : $0.40
Monogram Personalized Cork Coasters
as low as : $0.40
Religious Design Personalized Cork Coasters
as low as : $0.40
Seasonal Personalized Cork Coasters
as low as : $0.40
Sweet 16 Personalized Cork Coasters
as low as : $0.40
The Staple Drink Mats for your Bar with a Modern Urban Feel
Whether they are savoring wine, beer, or whisky, winding down at your bar, pub, or lounge after a long and tiring day, or celebrating the joy of your special occasion, opt to go the extra mile and that is by having your guests' drinks nestled on these logo personalized cork coasters, by capping-off the delightful experience at your lounge, bar, pub, or restaurant with these custom cork coasters as the little freebies that double as promotional coasters, or by having these personalized cork coasters for your wedding and party favors.
Made of natural cork, these custom cork coasters are highly absorbent, can absorb a relatively high amount of heat, and durable for lasting use. As such, they are perfect as beer mats for your bar, pub, lounge, or restaurant. They are also an indispensable take for your office entertaining needs, coffee shop, and tea room, whether as drink mats for water, hot or iced coffee, chocolate, and other types of beverages. They are the chicest wine cork coasters, too, for your guests' wine glasses or champagne flutes. Having them for your bar, they can also polish the latter's look with a cozy English pub-like feel. And, the latest trend? It is having them as the staple drink mats for the table setting and serving style of your home, bar, lounge, or restaurant with a modern urban feel.
Suited for Up to Large Drink Ware and Highly Absorbent
As 3.92-inch long and 0.125-inch thick square cork coasters, these personalized cork coasters actually rank among the larger-sized drink coasters. Thus, they are excellent at protecting your tables from the bumps, heat, and the moisture rings of small to large drink ware, like beer steins, wine bottles, and large soda bottles. Being just as thick as most glass coasters, you can actually consider them as your next best alternative to the latter with the enhanced ability to keep your tables dry and with no risk of being accidentally lifted and dropped once they are drenched with the moisture drips of an iced or cold drink because they are porous and non-fragile.
These custom printed cork coasters are a must-have in your lucky guests and gift recipients' modern home, office, and entertaining essentials, too! So be the one to give them these cork coasters personalized with the custom print of your logo, with a design that catches their interest, or with your artwork. Lavish them with these as the exclusive freebies or promotional coasters of your brand. Opt these as the coaster party favors of your wine tasting party and special occasions, like wedding. And, surprise them with these for your personalized wedding gifts, housewarming gifts, Stock the Bar shower gifts, holiday gifts, stocking fillers, and many more.
With such an inimitable, earthen, and urban aesthetic, these custom cork coasters really need no extra frills to impress your family, friends, and guests as personalized gifts and coaster party favors. Easily dress each of them or a set of them with a satin bow and favor or gift tag and they are good to go as cork decorations and takeaway coaster party favors of your beer-tasting party, wine-tasting party, wedding, and other special occasions. Lay them as the finishing touch of your table setting with a name card and they will charm not only as place card holders, but also as welcome gifts and coaster party favors. And, if having them alone for gifts and personalized favors is not enough, you can always slip them, too, onto a bigger gift, like a wine gift, beer gift, or fruit gift basket.
Buy Now - From $0.70, Lowest Minimum Online!
So make that stunning twist, get these personalized cork coasters bulk or wholesale from only $0.70 per piece and at the lowest minimum order quantity online of only twenty-four (24) pieces. Easily create your design by selecting a clip art from our gallery to personalize in your choice of color and with up to three (3) lines of custom text. Or, upgrade for only $12 in set-up fee to have your cork coasters customized with your logo or artwork and with the chance of having the same rendered in the custom color of your choice.
Have your personalized cork coasters delivered right at your door or shipped directly to your customers, gift recipients, or your store's branches across the USA or on international locations covered by our international shipping destinations at the cheapest rate online. And, if you have questions or inquiries, please tap our FAQ page above for our quick answers to your Frequently Asked Questions. Reach us via email at Info@GlassCoasterStore.com. Or, call us at 1.610.438.0632 during business hours, that's 9:00 A.M. to 6:00 P.M., E.S.T., Mondays to Fridays, except Holidays. Shop away and be sure to browse our site for more personalized coasters and restaurant or party glassware, which you can pair with your custom cork coasters. Happy Shopping!