You Are Here:
Home > Glassware Wholesale
Glassware Wholesale
Get your wholesale restaurant supplies and cheap wholesale glassware at up to 70% off their next best price online in this section of GlassCoasterStore.com! Equip your home, bar, restaurant, office, special occasions, and food-service business with these trusted durable and versatile stemmed and stemless wine glasses, shot glasses, mason jars, champagne flutes, drink coasters, and many others and be more confident to take on the everyday challenging roles of a chef, restaurateur, bartender, wine steward, food service professional, and wedding or party host with these ultra-fine wholesale restaurant supplies and everyday or party glassware.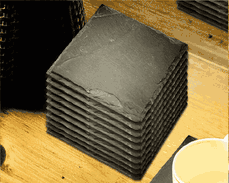 Square Slate Coasters Wholesale (Set of 24)
as low as : $33.95
Imperfect Blank Square Glass Coasters for Crafts (Set of 24)
as low as : $9.00
Laser Engravable Blank Sandstone Coaster Bulk Pack (Set of 10)
as low as : $21.00
ARC Perfection 5.5 oz Stemless Wine Glasses (Set of 24)
as low as : $36.00
ARC Perfection 9 oz Stemless Wine Glass (Set of 12)
as low as : $21.00
Blank 16 oz. Mason Jar Mugs - Pint Drinking Jars with Handle
as low as : $2.75
as low as : $1.15
6.5 oz. Mason Jars Bulk - Straight Sided
as low as : $1.50
as low as : $2.85
4 oz. Mason Jelly Jars with Regular Mouth
as low as : $1.50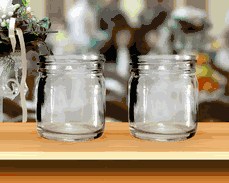 1.25 oz. Honey Jars Wholesale or Bulk
as low as : $0.75
ARC Decorator 3 oz. Votive Holders / Shot Glasses Bulk
as low as : $0.95
ARC 2.25 oz. Square Shot Glasses
Price : $2.35
Sale Price : $1.50
ARC 1.5 oz. Tapered Shot Glasses
as low as : $1.03
4oz Mason Jar Shot Glasses Bulk
as low as : $1.95
ARC Perfection 15 oz. Stemless Wine Glass (Set of 12)
as low as : $19.00
Great Quality Glassware that Show Your Business' Class
They say that your bar and dinnerware will say something about you and the service class that your business aims to provide, and it holds a sense of truth: All other factors set aside, you can enjoy a sumptuous dinner and feel a sense of sophistication dining in a simple home's table that is set with fine dinnerware but feel something missing enjoying the same gastronomic flair in a stylish restaurant with poor-quality dinnerware and drinking glasses.
Thus, when stocking your bar, restaurant, and party glassware collection, it is important that you pick-up the restaurant glassware supplies and bar or party glassware that will suit your needs and budget and represent you or your business' service class correctly. You will want your guests to enjoy a cozy, laid-back, festive, or elegant dining and bonding time and you do not stop realizing that by bringing the mood of the place to the same extent by way of the decor, but by picking up the appropriate glassware and dining table accessories that will ensure your guests' delightful dining and drinking experience over their choicest foods and drinks.
Your bar, restaurant, and food-service business will also have to deal with many very special needs. Among which are the regular demand for hygienic drinking glasses and table accessories and the need for multipurpose restaurant glassware supplies, which are not only excellent at giving your guests' foods and drinks an appetizing presentation, but which are also comfortable to eat and drink from because they suit your customer's taste, they are durable enough to withstand frequent uses, they are easy to handle for cleaning and storage, and are flexible enough to quickly adapt to your promotional needs or serving style changes.
Durable, Multipurpose Glassware You Can Truly Count On
In this section of GlassCoasterStore.com, there are many types, sizes, and styles of restaurant glassware supplies and wholesale glassware that answer your bar, restaurant, food-service business, and even your party's various serving style needs. Majority of our restaurant glassware supplies, in fact, are multipurpose glassware, so you can use such kind to serve many types of foods and drinks, while some are designed for a specific purpose, like the fluted shot glasses, which are planned for slammer shot drinks.
There are also dishwasher-safe and thermal shock-resistant restaurant glassware supplies and bar or party glassware here, as well as stackable mugs and drinking glasses, too, which maximize your bar and restaurant's cabinet space. And, for you who plans to stay ahead in competition, you can bank on the simple shape but elegant architecture of our wine glasses, champagne flutes, and other restaurant glassware supplies in giving your customers' foods and drinks an appetizing presentation and in creating various moods and styles of table setting that suit the season, your restaurant's decorating theme, and your business' marketing scheme.
Top-of-the-Line Drinking Glasses from Your Trusted Brands
It also goes without a doubt that a bar, restaurant, and food-service business that is well-stocked with top-of-the-line drinking glasses and table accessories can be your pride and joy. Thus, we have here for you only the restaurant-quality glassware products of leading glassware brands, like Cardinal International Inc.'s Arcoroc Professional Glassware, ARC International Group's Luminarc glassware, International Tableware Inc. (ITI), and Fillmore Container. What's even better, you can have your restaurant glassware supplies order customized here on our store with an engraving or colored print of your logo, marketing or promotional design, or own artwork.
Thus, whether you are looking forward to start, update, or perfect your business' well-stocked bar, shopping for cheap but high-quality restaurant supplies that will be a guaranteed hit in building your brand and in strengthening your business' competitive advantage, and if you are hoping to realize your dream for a home or office that is fully-equipped for any size and type of social entertaining need, then direct your browser first in this section of GlassCoasterStore.com, where you are guaranteed to get your restaurant glassware supplies and bar or party glassware bulk at the lowest minimum and at their cheapest wholesale price online.
FREE Sample, FREE Nationwide Shipping, and More!
Shopping here on GlassCoasterStore.com, you can also enjoy FREE custom engraving and FREE nationwide shipping on select restaurant supplies, as well as FREE sample on orders worth $150 and above that will be customized with a colored print of your logo or own artwork. Add to that are our web store's 24/7 online shopping convenience, phone ordering facility, safe and secured payment options, and hassle-free delivery of your wholesale or bulk order to your domestic or international location. So make us your #1 restaurant glassware supplier of choice today, take your time to browse and shop here on our site, and be sure to great news about GlassCoasterStore.com to your family, friends, stakeholders, and business partners. Have a great day shopping!