Personalized Candle Favors
These Personalized Candle Favors are what you and your friends and loved ones really need to style, brighten-up, and infuse a sense of tranquility to a favorite space. They are your essential aid for relaxation. They are your handy and symbolic gifts for joy, life, hope, and success, thus their perfect fitment for candle wedding favors, party favors, personalized gifts, and promotional items. And, they are the the highly versatile table decorations that will brighten-up, as well as give your tables a sophisticated sense of style not only as candle cups, but also as miniature flower vases, mini planters for succulent favors, place card flag holders, and many more.
Custom Printed 3 oz Personalized Votive Holders / Shot Glasses
as low as : $0.95
Monogram Engraved Votive Holders
as low as : $2.25
Custom Printed LED Votive Candles
Price : $1.50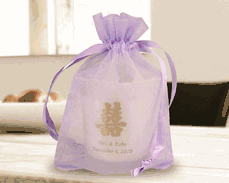 Personalized Double Happiness Frosted Candle Holder w Votive
as low as : $1.95
Small Coconut Shell Scented Candle
as low as : $8.00
Large Coconut Shell Scented Candle
as low as : $12.50
Blank 10 oz. Matte Colored Candle Jars
as low as : $3.50
Blank 10 oz. Frosted Colored Candle Jars
as low as : $3.50
Blank 10 oz. Iridescent Glass Candle Jars
as low as : $6.00
Your Special Occasion's Perfect Candle Favors and Centerpieces
There are old quotes and beliefs that sum up the link between candles and celebrations: As gifts and favors, candles are regarded as symbols of the joy that the giver feels at the present or presents that symbolize the recipient's brighter tomorrow. In weddings and anniversaries, they are symbolic for the light and flame of a love that will forever keep on burning. In baby showers, candle favors are regarded as the gifts that will give back to your new-born the blessings of his or her loved ones prayers. In birthdays and other special occasions, candles symbolize life, they are also meant to shower the celebrant with tons of happiness and memories.
With these thoughts in mind, there is truly no better way to brighten up your special occasions than with the soft and warm glow of candle lights, especially from these personalized candle favors. Each personalized candle favor features a high-quality clear glass or frosted glass votive holder with a colored print of your logo on one side and a white votive candle (packaged separately) with a burn time of approximately 10 hours. Minimal assembly is, thus, required to get each of this personalized candle favor ready for use.
Given these personalized candle favors' versatile shape and size, they are not only great as personalized candle holders for tea light candles, standard size votive candles, DIY gel candles, and even for select shaped candle wedding favors, they can also be fitted snugly in many types of candle lanterns, candle sconces, and decorative candle holders.
These personalized candle favors also have thick walls and a thick, flat base, which safety features make them more durable and resistant to thermal shock than ordinary and low quality glass votive holders, as well as excellent at confining the heat and melted wax of their votive candle within their walls so that even when gathered in a lot as candle centerpieces, your guests won't have to feel the discomfort of your candles' heat while dining and in-between the socials nor would you have to worry that the heat of the votive candle's melted wax, which may gather at the bottom of the glass, will damage the surface where they are set.
Trade the plain and ordinary votive holders of your wedding, party, or decorating theme's planned candle centerpiece for these clear glass or frosted glass personalized candle favors, which can simultaneously put more vibrant colors, a soft and warm glow of light, and a more personal style to your table setting. Or, pack them as practical gifts or personalized candle favors of your wedding, baby shower, business or wedding anniversary, birthday, bridal shower, baby's baptism, holiday parties, and other special occasions.
Quick Buying Guide to Candle Centerpieces and Decor
The perfect decorating theme does not stop with the perfect fusion of the elements that make up its colorful and thematic flair; it also needs the perfect kind of light that will set the entire look with the right ambiance. Candles have gained the interest of many brides, party hosts, decorators, and event stylists for their ability to fill a place with a warm and cozy ambiance. The glow of candle lights don't only make for the perfect and romantic pictures, especially for evening functions, they can also enhance the elegance of a decorating theme that is set under the bright sunshine.
When it comes to shopping for candles that have to be used as candle centerpieces and decor, especially for your parties, here are some of the factors that you may have to consider:
Decide on a Decorating Theme
There is a plethora of candles and candle holders in the market that you can pick for your decorating theme, i.e., from white to colored candles, scented and unscented candles, paraffin to soy, beeswax and battery-operated candles, tea lights to pillars, candle cups to lanterns, tabletop candle holders, sconces, and more.
Thus, to trim down your choices, have a decorating theme in mind, especially get an inspiration photo of it, list down the types, sizes, and colors of candles and candle holders that it will need, the burn time of the candles needed for your event to ensure that they will burn till the end of your event, and window shop for these candles and candle holders on your nearest stores before buying them.
Window-shopping for your candle decorating supplies before buying will give you a better idea as to how your dream design can be realized or enhanced using the materials that are within your reach and budget. It also reduces the problem of buying the candle and candle holders that won't fit together, particularly in the case of buying the latter separately, it even gives you more confidence in shopping online and scouting the right deals for the candle supplies that will work right for your decorating theme.
Pick the Candle Type and Holder that Suits Your Party Venue.
Candle decorations and centerpieces look great on both indoor and outdoor locations and on sunny outdoors and dim or dark party venues. As for your event, you surely don't want your candles to be put off by the wind on your beach or garden wedding, nor its soot and smoke distract your guests on the dinner table and its height block your guests' view of everyone else around them.
Avoid these decorating dilemmas by putting your candle decor in the right candle holders. Candle lanterns, like paper lanterns and Asian candle lanterns, are both useful and elegant choices for windy locations and for use with candles that tend to smoke a lot and emit soot, like paraffin wax candles, as they have metal or glass walls that shield your candle's flame from the strong winds and trap its soot and smoke.
If you are planning to use votive or tea light candles, these highly versatile candles can be put in candle cups, candle holders, and sconces, arranged in a flower centerpiece, and more. Normally, however, they liquefy and solidify, so be sure to get them candle holders that are wide and tall enough to enclose them and contain their wax drips even thick enough to withstand the latter's heat. Floating candles are also a safe option, or you can opt for battery-operated candles, which you can even send out as souvenirs to guests at the end of the event.
Candelabras, which feature multiple arms, are another popular choice for formal weddings and events with a luxurious, vintage-style setup. They are best for tranquil affairs, which offer less possibility of them tipping over amidst the hustle and bustle of the party and paired with short floral centerpieces as they are already tall enough to block the view of the guests that are seated around the table.
As for the pillar candle size to use with them, be sure that the candle's diameter is smaller than the candle slot and that the candle can be steadily nestled on the latter so that your candles' dripping wax will be contained within its candle tray and not mess or damage your tables' delicate surface, linen, or mantel cloth.
Ensure Safety in the Use of Candle Lights
The use of candles will always require safety precautions. It's your event, so be sure to avoid your candle centerpieces ruining your party's perfect scene with these tips:
*Check with your party venue if they allow the use of lighted candles and inquire from your caterer and event stylist about the fire safety precautions they follow in having candles for events like yours.
*Use sturdy candle holders that won't tip over easily, made from materials that can't burn, and large enough to collect dripping wax.
*Trim your party candles' wicks to 1/4 inch to prevent them from burning and dripping unevenly.
*Ensure that there's enough ventilation on your wedding and party venue. Place candle holders at least 3" apart from each other.
*Do not move lighted party candles. But if you must, snuff out the flame with a candle snuffer before moving it to the right location.
Finally, remember the two (2) rules for using candle centerpieces: Keep the candle's flame below eye level and use unscented candles to keep the integrity of the smell of the foods that are served on your dinner tables.
Have the best and picture-perfect party ever with the pretty candle lights and impressive designs of your wedding candles and candle favors that are specially made for you by GlassCoasterStore.com. Be sure to also view our wide selection of party essentials, which are sure to make for great additions to your wedding and special occasions.