11 oz. Personalized Coffee Mugs
No one cannot be cheered by these Personalized Coffee Mugs , which lucky recipients can use for hot and cold drinks and for dry to liquid foods alike, like coffee, milk, hot chocolate, ice cream desserts, cereals, and fresh fruit salads, to name a few, whether at home, in the workplace, in your restaurant, on your wedding, and other small and big celebrations. Proven versatile, these custom printed coffee mugs also pride a durable make and high-quality print of your company logo or artwork for lasting usage. Each also features a wide cylindrical body and C-shaped handle, thus although large in their 11 oz. size, they are always a pleasure to use.
11 oz. Custom Printed Coffee Mugs
as low as : $1.72
as low as : $1.72
11 oz. Anniversary Coffee Mugs
as low as : $1.72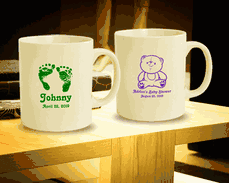 11 oz. Baby Shower Coffee Mugs
as low as : $1.72
as low as : $1.72
11 oz. Bridal Shower Coffee Mugs
as low as : $1.72
11 oz. Christening Coffee Mugs
as low as : $1.72
as low as : $1.72
11 oz. Monogrammed Coffee Mugs
as low as : $1.72
as low as : $1.72
11 oz. Religious Design Coffee Mugs
as low as : $1.72
as low as : $1.72
11 oz. Personalized Coffee Mugs (Full Wrap, Full Color Print)
as low as : $4.50
Start your day right with the use of our wonderful and chic personalized coffee mugs in your family or colleagues early morning bonding. Perfectly made to make your coffee time truly special and memorable, this personalized mug is something to look forward to every morning. When the weather gets cold, these personalized coffee mugs can help you feel warm and remind you of wonderful memories of your special day. You may use it together with our glass coasters to protect your tables from beverage marks or rings.
Aside from being a great personalized gift that you can give, these personalized mugs are cheap and affordable. It will be a perfect wedding favor for couples who are budget conscious. With our personalized coffee mugs, your friends and customer will have something to remind them of your special day or your company that they can use every day. It will be worth it to give them a mug that they can use and treasure for a long time. For promotional purposes, your company's logo will be well advertised since a lot of people drinks coffee every now and then.
Coffee mugs are special because they can be personalized such as having your name imprinted on it, date of your event or a short message for your guests. Your guests will definitely feel special giving them a personalized coffee mug that they can use when drinking their hot beverage. For companies, it can be a great opportunity to make it as a marketing tool or promotional item.
A personalized coffee mug can definitely send your heartfelt message to your guests and friends. Choose now from our wide selection of coffee mugs. Impress everyone who loves coffee, tea or any hot beverages. These products are great for the home or offices! Share your warmth message through our personalized coffee mugs collection!
We have various unique designs that you will simply love to have and share with your guests and friends. Take time to check our adorable and beautiful coffee mugs collection and it can be personalized with up to 2 line of text or numbers.