Asian Favors
These Asian Wedding Favors, Asian party favors, Asian gifts, and Asian decorations will do more than transport your guests and gift recipients to the heart of Asia because these will also shower them with your Asian wishes for good luck, good health, happiness, and prosperity. And, what's not to love, we got the genuine Chinese chopsticks, Asian hand fans, Japanese tableware, paper parasol umbrellas, lucky bamboo favors, Chinese paper lanterns, and more to make them the proud owner of one or more of Asia's iconic handicrafts.Plus, the best-quality everyday essentials, which are personalized with your choice of an auspicious Asian design.
Imprinted Square Slate Coasters
as low as : $1.95
Asian Imprinted Glass Favor Jars with Snap Lid
as low as : $1.85
25 oz. Personalized Chinese Tea Pots
as low as : $12.75
"Tea Time" Personalized Heart Tea Infuser in Tea-Time Gift Box
as low as : $2.60
Asian Personalized Frosted Candle Favors
as low as : $1.60
Asian Personalized Clear Candle Favors
as low as : $0.96
11 oz. Asian Personalized Coffee Mugs
as low as : $1.72
16 oz. Asian Personalized Mason Mugs
as low as : $2.75
Asian Personalized 5.5 oz. Stemless Wine Tasting Glasses
as low as : $1.90
Asian Personalized 9 oz. Stemless Wine Glasses
as low as : $2.00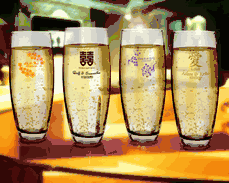 9 oz. Asian Personalized Stemless Champagne Flutes
as low as : $2.30
Asian 20 oz. Personalized Pub Pilsner Glasses
as low as : $1.85
Personalized Cherry Blossom Silk Fans w/ Side Print
Price : $2.40
Sale Price : $1.70
15 Asian Elements for Your Wedding and Special Occasions
Incorporate these Asian elements to your wedding, special occasions, and decorating themes and enjoy once again the warmth and comfort of Asia without having to go the traditional Asian style route:
Japanese Cherry Blossoms.
Recreate the ethereal pink landscape of Japan on your special occasion, or give it an Asian touch in a shade of pink by decorating your party place with Japanese cherry blossoms. Also known as the Sakura, the Japanese cherry blossoms are small, 5-petalled flowers that bloom in a mass, thus, creating an illusion of pink canopies or white clouds amidst Japan's picturesque landscapes. Set them up as decoration for the wedding aisle or as a table centerpiece for your cherry blossom-themed parties, and effortlessly amp up the party setup with a sparkling set of personalized cherry blossom-themed Asian favors.
Double Happiness Symbol.
Let the Chinese wishes for a lifetime of happiness and harmonious relationship rub on your guests or stay on your lifestyle with Asian favors, party glasses, and home decor that feature the Chinese symbol for Double Happiness, or Shuangxhi. Made by writing the Chinese character for joy twice, the Double Happiness symbol is an important figure for Chinese weddings and how they appear as two (2) people walking hand-in-hand is believed to convey that man and woman are meant to go through life together.
Plumeria Flowers.
Give your beach wedding a tropical inspiration that conjures images of the luxurious beach resorts in Southeast Asia with the help of plumeria flowers, which are considered as a token of love in China; typically worn as a garland by the young Hindu brides on their wedding day to show their loyalty to their husbands; and, are prized as the flower of the educated and westernized upper class in Vietnam.
1
The plumeria is one of the most versatile Asian flowers as they can be worked as floral carpet of your wedding aisle and floral accents of your wedding cake, table centerpiece, bridal bouquet, Asian favor gift wrap, and many others.
Thousand Origami Cranes.
Make your wedding wish for a thousand years of happiness and prosperity come true by folding a thousand origami cranes, or Senbazuru. The crane is a mystical creature that is believed to live for 1,000 years and mate for life, thus, they are regarded in Japan for their loyalty, named as "the bird of happiness", and symbolic of good fortune and longevity to the Chinese, Japanese, and Korean cultures. The thousand origami cranes also make perfect gift for the new baby, i.e., to wish her long life and good luck and is prized as a lucky charm as an Asian home decor.2,3
Chinese Lanterns.
You will definitely love these colorful paper lanterns for the creative lighting idea that they can bring to your home, wedding venue, and party places. Chinese lanterns are versatile as Asian lights and indoor or outdoor decoration, and they can look so at home on your Asian and non-Asian-themed wedding, parties, and decorating themes. If you like the kind that is considered as the supreme symbol for good luck, prosperity, happiness, protection, and lasting marriage, then look no further than the red traditional Chinese lanterns or Festive Chinese lanterns and hang them by the entryway of your home, wedding venue, and business establishment.
Paper Parasols.
Invite your bridesmaids to enjoy the summer sun on your destination wedding by giving them paper parasols or Japanese umbrellas. For your party cocktail drinks, don't forget to give your personalized Asian-themed party glasses a playful twist with miniature-sized paper parasols or present your wedding Asian favors with an unexpected gift tag by decorating your Thank You note on miniature Japanese umbrellas.
Peacock Feathers.
Beyond the elegant mix of colors and iridescent plumage are the Hindu's belief for fortune, kindness, patience, love, and goodwill. Peacock feathers are naturally eye-catching and they make for a delightful color idea for weddings and special occasions with a South Asian inspiration. You don't have to confine yourself, however, to using real peacock feathers on your wedding or party details as you can use wedding elements in the shades of turquoise, gold, and olive.
Asian Hand Fans.
Help your guests to stay cool amidst the warm weather with the help of Asian hand fans, which range from the practical paper fans to the artistic Japanese and Chinese fans, the fragrant sandalwood fans, and the beach-perfect buri fans. Hand fans have had a rich history in Asia, especially in China and Japan, which makes it easy for them to give your wedding and party an Oriental twist.
Chinese Takeout Boxes.
Your Asian favors would definitely find their home-sweet-home in Chinese takeout boxes, which are widely used in Asia as a handy, disposable container for various Asian foods, like noodles, siomai, and rice meals. Chinese takeout boxes are so easy to assemble, you can even make them your last-minute gift wrap for your Asian favors and they also make for a cute substitute to the traditional party loot bags.
Asian Candle Lanterns.
Accentuate your party tables with Asian candle lanterns and candle holders, especially the Shoji-style Japanese candle lanterns, vintage-style Chinese candle lanterns, the party-stunner Moroccan candle lanterns, or the beach-perfect Capiz shell candle holders. Candle lanterns in Asia were believed to have stemmed from the need of the ancient people for a portable and safe lighting tool that will help to protect their candle lights from being extinguished by the strong winds and they are prized today not just as ornaments for the home, wedding, and special occasions, but also as a creative lighting tool because of the opulent and relaxing ambiance that they can lend to indoor and outdoor spaces.
Strands of Pearls.
Give your wedding and anniversary party a brilliant touch of the Orient seas by choosing pearl for your wedding theme or wedding accessory or by hanging strands of faux pearls on your flower topiary centrepiece. Pearls are regarded as a symbol for love and purity in the Far East and they can easily fill a touch of affluence to garbs and wedding motifs in a neutral or pastel hue. For your Asian favors, why not surprise your guests with a felt paper-covered favor box that is filled round chocolates that are specially-made to look like pearls? Classy and unexpectedly sweet, you can also fill your personalized stemless wine glass favors with pearl chocolates so your guests can enjoy a sweet indulgence to match their favorite fine wine.
Gilded Patterns, Fringes, and Sequins.
If you love the idea of a vibrant-colored Asian party setup, especially one that will let your guests sit down amidst a rich mix of shimmery fabrics, gilded patterns, and multi-hued sparkling embellishments, then turn your eyes for elegant inspirations to South Asia and Southwest Asia, or the Middle East. You can also incorporate brass jars to your party tables' centerpiece, make use of table runners that are adorned with fringes, beads, and sequins, personalized Asian-themed party glasses to top-off the classy party setup, and Jordan almond Asian favors wrapped in shimmery organza bags for your souvenirs and Thank You gifts.
Bamboo Party Decorations.
Whether you incorporate them as a bamboo wall art, bamboo coasters, and bamboo-designed party glasses, bamboo party decorations can strike a relaxing shade of green motif that exudes a Oriental inspiration. Complete your party details with lucky bamboo plants Asian favors, which are known to foster the positive flow of chi to every indoor and outdoor space. You can also tweak your bamboo-themed decorating setup with panda decorations for your child's Asian-themed birthday party.
Asian Foods and Desserts.
Asian foods, like Chinese noodles, Japanese maki and sushi, the spicy Thai, Indian, and Middle Eastern cuisines, glutinous rice of Southeast Asia, and Russian caviar, are sure to draw your guests to the party tables even without the need for an invitation. Noodles, most especially, are a must-have to Asian celebrations as they are believed to shower the celebrant with long life. Don't forget to prepare chopsticks, tea, and tropical desserts, though, like mango and tapioca pearls served on personalized Asian-themed shot glasses, creme caramel, and corn with shaved ice, to give guests an authentic Asian dining experience.
Asian Color Motifs.
Red, yellow gold, grass green, azure blue, maroon, magenta, and orange, especially in the shade of koi, apparently are some of the colors that easily bring to mind the elegant weddings and events in Asia – with red, maroon, yellow gold, and magenta prized by several Asian cultures as the colors for good luck and royalty; green, azure blue, and stone, which make for its picturesque landscapes, and orange as an emblem for the Asians' love for merry-making and generally cheerful nature.
Finally, have Asian favors and Asian-themed souvenirs to complete your Asian-themed wedding and celebrations. Shop our great variety of personalized Asian glassware and coffee or tea accessories, kimono robes, which are sure to keep the memories of your event and not lose their Asian appeal even as the years pass.
References:
1http://www.ehow.com/facts_5562857_meaning-plumeria-flower.html
2http://www.jccc.on.ca/origami-cranes/pdf/meaning_of_the_origami_crane.pdf
3http://origamiancy.com/2009/11/origami-cranes/