Birthday Favors
Introduce these Personalized Birthday Favors, which bring an awesome twist to the traditional party loot bags, and Personalized Birthday Party Supplies, which your fun-loving crowd – both the big kids and adults alike – are sure to love owing to their treasure-worthy quality, eye-catching design, and custom print, which specially gives your birthday that unique and standout persona.
Birthday Personalized Cork Coasters
as low as : $0.40
Imprinted Square Slate Coasters
as low as : $1.95
Baby Boy Glass Photo Coasters (Set of 2)
as low as : $1.08
Baby Girl Glass Photo Coasters (Set of 2)
as low as : $0.90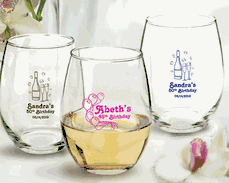 Birthday Personalized 5.5 oz. Stemless Wine Tasting Glasses
as low as : $1.90
Birthday Personalized 9 oz. Stemless Wine Glasses
as low as : $2.00
Birthday Personalized 15 oz. Stemless Wine Glasses
as low as : $2.30
9 oz. Birthday Personalized Stemless Champagne Flutes
as low as : $2.30
Personalized Silk Fans - Front Print
as low as : $1.75
as low as : $1.75
as low as : $1.72
16 oz. Birthday Personalized Dover™ Cappuccino Cups
Price : $4.50
Sale Price : $3.25
as low as : $0.75
Birthday Imprinted Glass Favor Jars with Snap Lid
as low as : $1.85
Birthday Personalized Mason Jar Shot Glasses
as low as : $1.95
Birthday 4 oz. Mini Mason Jars
as low as : $1.15
4 oz. Birthday Personalized Mini Favor Jars
as low as : $0.95
as low as : $1.50
Birthday Imprinted 8 oz. Mason Jars
as low as : $1.75
as low as : $1.95
Birthday Personalized 16 oz Mason Jars
as low as : $2.00
16 oz. Birthday Personalized Mason Mugs
as low as : $2.75
Birthday Personalized Ceramic Shot Glasses
as low as : $1.20
1.2 oz. Custom Printed Sake Cups (Black or White)
as low as : $2.20
4 oz. Birthday Personalized Tea Cups
as low as : $3.25
Birthday Personalized Clear Candle Favors
as low as : $0.96
Birthday Personalized Votive Candles
as low as : $0.45
Birthday Personalized Frosted Candle Favors
as low as : $1.60
Birthday Hurricane Candle Holder
as low as : $3.25
Perfectly Suited Ace King 14 Gram Personalized Poker Chips
as low as : $0.40
Personalized Burlap Favor Bags
as low as : $1.80
Personalized Muslin Favor Bags
as low as : $1.10
as low as : $0.97
Personalized Karate Headband with Your Name
as low as : $3.25
Five (5) Birthday Favor Ideas and DIY Birthday Party Tips
Planning for birthday favors? We asked your fellow moms and birthday celebrants for birthday favor ideas and DIY birthday party tips that can serve as your handy and stress-free guide to organizing an unforgettable birthday party:
Party Loot Bags. Filled with tiny favors, like sweet treats and fancy goodies, this classic birthday favor never fails to excite both kids and kids-at-heart, plus they are fun and easy to prepare and can even revive childhood memories as birthday party favor for adults. And if you are having a hard time deciding on the best birthday party favor for girls or birthday party favor for boys, the solution is simple: Pick and wrap them all! After all, they are party loot bags, or meant to spoil guests with a lots of surprise.
Personalized Birthday Favors. Whether customized with a label or made according to the birthday party's theme or the celebrant's preference, personalized birthday favors give birthday parties a touch of exclusivity and heightened celebratory factor. If you are looking for their practical and long-lasting varieties, look no further than our glass or ceramic personalized birthday favors.
Candy Bar or Dessert Buffet. An array of candies, cake pops, chocolates, cookies, fruit kebabs, and dips around a chocolate fountain is sure to welcome guests with a grand surprise plus they can work in three (3) ways: As party dessert, birthday party decoration, and an innovative idea to the traditional party loot bags when you offer guests to wrap from such rich concoction their birthday party sweets inside fancy paper bags, personalized mugs, or personalized dessert cups.
Customized Edible Birthday Party Favors. Inspired by the old Asian tradition of giving guests something from the birthday food that they can enjoy at home, edible birthday party favors are given a modern take by the custom birthday cookies, birthday party cupcakes, and other freshly-baked goodies, which are specifically made for birthday giveaways. But if you think they are a pensive treat that are not meant to last, reusable containers, like personalized glass mugsand personalized glass jars, are also available, which can make your edible birthday party favors look more attractive and appetizing.
Themed Birthday Favors. They are typically cute and entertaining and make perfect decoration and giveaways for themed birthdays. So whether you are looking to sway the mood of your birthday following the season, favorite fairy tale story, cartoon or superhero character, sports, hobby, movie, games, and many others, these themed birthday favors will not only make for a pleasant birthday bash, they can also take the inspiration of your birthday theme up to your guests' home.
History of Birthdays
In the olden days, birthdays are not exactly known and in the absence of the calendar, people would reference someoneís birthday based on factors that they remember, like the weather, i.e., saying one was born on a very cold night, or an unforgettable occurrence in their community, such as saying there was a party a few days hence or before when she was born.
Long after the invention of calendars, people started to mark birthdays and such later became a custom and tradition that was looked forward to as a special time of the year for every individual.
History of Birthday Celebrations
Birthday celebrations are considered to have stemmed from pagan practices as an attempt to protect the birthday celebrant from evil spirits. They were initially reserved only for the elite and was a celebration that was attended by individuals who would gather around the birthday celebrant to shower him or her with good wishes and noise, such as of songs and laughter, that will drive away the evil spirits.
Receiving birthday gifts was considered to be a sign of good luck while lighting birthday candles became customary as a symbol of guiding light and blowing it off to realize the celebrantís birthday wish. Birthdays today are celebrated in so many ways – from simple dinner with family and friends to grand feasts that are attended by several guests and with games and fancy giveaways that serve as birthday souvenirs.