Double Happiness Favors
These Double Happiness Personalized Favors have the Chinese characters for Shuang Xi, which stands for happiness, love, unity, and good luck specially printed in your favorite color and with your heart-catching text. Traditionally, the Chinese Double Happiness symbol is prized as an ornamental design for Chinese weddings and is regarded auspicious for wishing the happy couple with a lifetime of happiness, love, and unity. Having the same featured on the best glass coasters in town, as well as on the wine glasses and entertaining essentials that you already love, these Double Happiness personalized Asian wedding favors are particularly chic as souvenirs of your special day and as wedding gifts, stylish drink ware, and entertaining essentials for your home, bar, and office.
Double Happiness Personalized 9 oz. Stemless Wine Glass
as low as : $2.00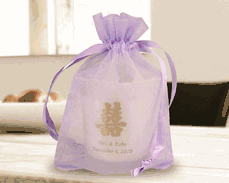 Personalized Double Happiness Frosted Candle Holder w Votive
as low as : $1.95
as low as : $1.80
Personalized Engraved Chopsticks
Price : $3.75
Sale Price : $2.75
15 oz Stemless Wine Glass Double Happiness Favors
as low as : $2.30
The Double Happiness Symbol in Chinese Weddings
Chinese weddings are a special time for the Shuang Xi, or the Double Happiness symbol, where they are utilized as a design motif to several or all of the wedding ceremony details and wedding decorations, like the wedding invitations, the Chinese tea sets for the tea ceremony, Chinese lanterns that are hung so grand outside and inside the wedding venue; the large, often wall-sized,head table backdrop where they are made in a huge size so as to be seen from all directions across the wedding venue; the China dinnerware, chopsticks, party glasses, candle centerpiece, wedding favors, wedding cake, and wedding gifts, among the others.
History of the Double Happiness Symbol
The Double Happiness symbol, or Shuang Xi, refers to the two (2) Chinese characters for "happy" or "joy", called Xi, which is written twice and joined together through the latter's long horizontal stroke.
It was believed that the Double Happiness symbol was first used during the wedding of a young couple who made it on red paper and decorated it on the wall to express their happiness for celebrating two (2) special events on such day, i.e., their wedding and the appointment of the bridegroom as minister of the Chinese Imperial Court. From then on, the Double Happiness symbol was used in weddings until it became a custom up the present times. It is traditionally featured in red, which is the Chinese color for good luck, happiness, protection, prosperity, and fertility, or set in gold against a red background.
The Double Happiness symbol in Chinese weddings, thus, holds a very special place in the celebration, unity, and life of the Chinese couples, not only because it evokes their culture's beliefs that man and woman are meant to go through life together or have a soulmate and that happiness is found in "two's", but because it also endeavors to shower them with blessings that make for a lasting, happy, and prosperous relationship.
Double Happiness Favors for All Occasions
These Double Happiness favors not only make for a perfect souvenir for couple celebrations, like engagement parties and wedding anniversaries, giving them as a wedding gift for the bride and groom and couple celebrants is considered equal to greeting them with Congratulations and Best Wishes in the Chinese language.
You can also give-in to your dream of adding them to your Chinaware and barware collection, shopping them as personalized Double Happiness party supplies for your Chinese wedding and special occasions, or having them as your everyday Double Happiness tea and coffee accessories as it also considered auspicious to display their Double Happiness custom design inside the home, use items that bear their symbol, and regard them as a Feng Shui love cure.
So let the Chinese blessings for a lifetime of happiness and unity reign on your wedding through these Double Happiness favors, or be inspired to face each day with a merry heart by having them as Double Happiness tea or coffee drinkware and party glasses. Need more personalized Double Happiness favors or Asian favors? We have recently simplified the way you shop our wide range of custom favors, so, be sure to take a look at our Wedding Favors and Asian Favors to find our entire selection of custom favors, which you can personalize with our Double Happiness designs!