Elephant Favors
Get these Elephant Favors as the functional eye-candies of your wedding, party, and everyday simple meal's table setting: Set them on the tables and see the elephants appear to be waiting to dine, drink, and party with you, your guests, and loved ones. Stylized with the image of the elephants, these elephant favors are a party pick that levels up the happy mood of your affair. They are also the party secret to showering the swift bonding moments with your pals with fun and unforgettable memories. Need more elephant favors? Just look for these elephant designs within our custom favors for wedding, birthday, baby shower, and other special occasions!
Elephant Imprinted Glass Favor Jars with Snap Lid
as low as : $1.85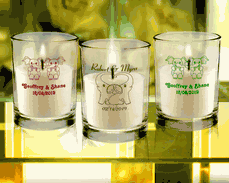 Elephant Personalized Clear Candle Favors
as low as : $0.96
Elephant Personalized Frosted Candle Favors
as low as : $1.60
11 oz. Elephant Personalized Coffee Mugs
as low as : $1.72
16 oz. Elephant Personalized Mason Mugs
as low as : $3.15
9 oz. Elephant Personalized Stemless Champagne Flutes
as low as : $2.30
Elephant Personalized 5.5oz Stemless Wine Tasting Glasses
as low as : $1.90
Elephant Personalized 9 oz. Stemless Wine Glass Favors
as low as : $2.00
Elephant 20oz Personalized Pub Pilsner Glasses
as low as : $1.85
Perfectly Personalized for Your Cute or Exotic Elephant Party Theme
Elephants never forget! Thus with these elephant favors, elephant drink coasters, elephant mugs, elephant party favors, drinkware, and party glassware to fill a fun, sleek, and modern look to your Thai or Indian wedding, white elephant party, elephant birthday party, safari baby shower, home, business place, or party place, we are greatly charmed by the fact that you sure to know exactly that there is no limit as to what you can do to host that once-in-a-lifetime event that will stand out among each guest's cherished memories.
With everything from the basic table must-haves, i.e., water goblets, drink coasters, pint glasses, and salt and pepper shakers, to the essential party drinkware i.e., stemmed and stemless champagne flutes and wine glasses, elephant shot glasses, coffee mugs, glass mugs, and mason mugs; the distinctly Asian Chinese mini tea pots; and, elephant-themed decorations, like candle holders and snap jars, which feature your choice of an elephant design, you are sure to find herein all the elegant personalized elephant party favors, party supplies, drinkware, and table accessories to match your cute or exotic elephant wedding, party, or decorating theme.
Shop Elephant Party Favors Bulk or Wholesale
Shop these gorgeous personalized elephant favors, elephant party supplies, and party drinkware now and let them highlight your beautiful abode, naturally draw the tough, auspicious, and playful nature of the elephant to your safari wedding and elephant-themed parties, serve as conversation-starting pieces of your bar and tables, make your guests' dining or drinking experience a gift on its own, and cheer a family, friend, boss, workmate, or guest on their special occasion and on your wedding and festive occasions.
No worries about heavy spending as for as low as a piece over a dozen of each type of elephant favor and custom design, you can already avail of GlassCoasterStore.com's special discount. Greater savings are ready, of course, when you buy your personalized elephant favors, party supplies, elephant-themed personalized gifts, and table accessories wholesale or in bulk quantities. So hurry, bag these personalized elephant favors, party glassware, and more to treat your guests to an elegant elephant-themed party style.
Need more personalized favors and party glassware to mix-and-match for your wedding and other special occasions or customize with an elephant theme? Then don't hesitate to browse and shop your personalized favors by occasion or by theme. Happy shopping!
Elephants as One of the World's Party Animals
Elephants – the largest land mammals on earth – can aptly be considered, literally, as one of the world's most loved party animals. Gracing one party to another, i.e., as baby elephants in elephant-themed baby showers, as playful and skilful creatures often clad in colorful outfits and with toys in circus-themed birthday parties, as wacky white elephants with gifts on holiday parties, as fierce giant creatures in jungle and safari-themed parties, and even as their real regal self in Thai and Indian weddings, their lovable, social, and frisky natures have clearly made their way to the heart of humans who consider them as the life of the party.
This amazing connection between elephants and parties apparently stemmed from the belief that elephants and humans share multiple characteristics. Baby elephants, for instance, receive love the moment they are born. Depicted by how the female members of their herd attend to the laboring mommy elephant and immediately start bonding with the calf, this elephant characteristic sort of calls to mind how humans welcome the coming of a new baby with a party.1
Why They Say An Elephant Never Forgets
While charmed as intelligent and playful creatures that establish strong family ties with their herd, elephants also have a great ability to remember details, i.e., remembering the companions they've spent long stretches of their time with as well as friendly elephants they have spent a short time with, knowing and being able to track as many as 30 companions, remembering a lost loved one even after so many years, and remembering a safe water source from very long distances and over the span of many years.2
Elephants as a Symbol of Good Luck
Elephants also play very special roles in the lives of many Asians. They are associated with the Hindu God, Ganesha, and are the symbol of mental strength among the Buddhists, thus their distinction in Asia as sacred animals. White elephants, due to their rarity and wisdom, are also the symbol of royalty, wisdom, and power in Thailand, Laos, and India and are, as well, revered as symbols of power and good luck in Burma. Due to these, it is common to find elephants in Asia being loved, revered, and given a prestigious place in the state, culture, and even in people's homes and lifestyle, i.e., as elephant home decorations, gifts, and many others.
So if you have yet to put the image of the elephant into your home, wedding, business, and party details, make sure to take that practical and easy start by picking one or a combination of these personalized elephant party favors that we have to offer, which have all been rendered carefully in auspicious and cheerful designs.
References:
1http://animals.pawnation.com/emotional-characteristics-elephant-10845.html
2http://mentalfloss.com/article/52381/it-true-elephants-never-forget